August 24, 2017 9:45 pm
Leave your thoughts
We like to talk a lot about different design ideas for metal security doors, gates, wall art, yard art, and other metal fabrication projects for your Phoenix, AZ area home. Metal is such a versatile material and there's just about nothing you can imagine that can't be made using steel or another metal. Throughout history, artists have created some truly amazing sculptures out of metal.
This week we thought it would be fun to explore 5 of the most iconic metal sculptures, many of them located right here in the United States. Take a look:
1. Unisphere, New York, NY: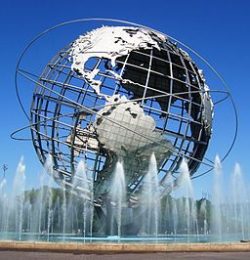 This metal sculpture is located in Flushing Meadows-Corona Park in Queens, New York and is a gigantic globe. It's actually part of a working fountain that was constructed as the theme symbol for the 1964 World's Fair. It was designed by landscape architect, Gilmore D. Clarke and industrial designers at Peter Muller-Munk Associates. Made out of stainless steel, the Unisphere weighs somewhere between 700,000 and 900,000 pounds, measures 120 ft in diameter and is 140 ft tall. It's been featured in several movies over the years, including two Marvel superhero films, Iron Man 2 and Captain America the First Avenger.
2. Eiffel Tower, Paris France: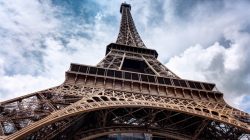 You might not think of the Eiffel Tower in Paris, France as a sculpture or as a broadcasting tower, but this amazing lattice metal tower has come to symbolize Paris, France to the entire world. Although it's considered a work of art now, at the time it was built in 1887 to 1889, many of France's artists were not fans. It got its name from Gustave Eiffel, the engineer who designed it. Like the Unisphere sculpture, it was built for a World's Fair. It's 1,063 ft tall and is the 2nd tallest structure in France.
3. Brooklyn Bridge, New York, NY: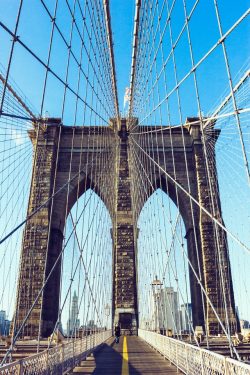 The famous Brooklyn Bridge spans the East River and connects the New York boroughs of Brooklyn and Manhattan. It's one of the oldest bridges in the United States and has become a worldwide symbol of New York City. It was the first steel-wire suspension bridge ever built. It was designed by John Augustus Roebling and his son, Washington Roebling oversaw the project. Besides steel, the bridge is also made of granite, limestone, and cement.
4. Chicago Picasso, Chicago, IL:
Famous artist, Pablo Picasso created this abstract piece that was dedicated in 1967 as a gift in spite of being offered $100,000. Located in Chicago's Daley Plaza, it was the first public artwork in Downtown Chicago. People, especially children, enjoy climbing the base of this Cubist sculpture and then sliding back down again. The metal fabrication was done by the American Bridge Company in Gary Indiana out of COR-TEN steel. In order for the sculpture to be moved to Chicago, it had to be disassembled. In its early days, the sculpture was controversial because it was abstract and not of a well-known historical person. To this day, nobody knows what or who the sculpture depicts. Some say it's a woman named Lydia Corbett, and others say it's an Afghan Hound dog.
5. The Statue of Liberty, New York, NY: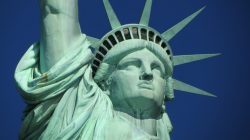 We couldn't create a list of famous metal sculptures without including our own Statue of Liberty. This copper statue was a gift to the United States from the people of France in 1886. It was designed by French sculptor Frederic Auguste Bartholdi and built by none other than Gustave Eiffel (yes, the same guy that built the Eiffel Tower). The iconic statue that was a welcoming sight to many immigrants as they arrived almost wasn't completed due to difficulty raising funds. The statue was shipped from France in crates and assembled on Liberty Island in New York Harbor.
While your metal fabrication ideas for your Phoenix area home won't be as colossal as the gigantic sculptures and other famous metal structures we feature above, we're confident they'll help you understand exactly how amazing metal fabrication can be and that you can have security doors and gates that go above and beyond the ordinary.
Do you have a favorite metal structure or sculpture? Let us know in the comments below. And if you're interested in learning more about how metal fabricated designs can become part of your home, contact Steel Advantage in Phoenix, AZ today.
Categorised in: Metal Working
This post was written by Writer