Metal fabrication is the term for all the processes involved in building metal formations including cutting, bending, welding, and assembling. At Steel Advantage Powder Coating and Metal Fabrication, we take pride in helping you create the perfect metal piece for your home or business whether that's something like patio furniture that's the perfect height for your little dog to jump up onto for a nap or a sculpture to delight customers when they visit your business.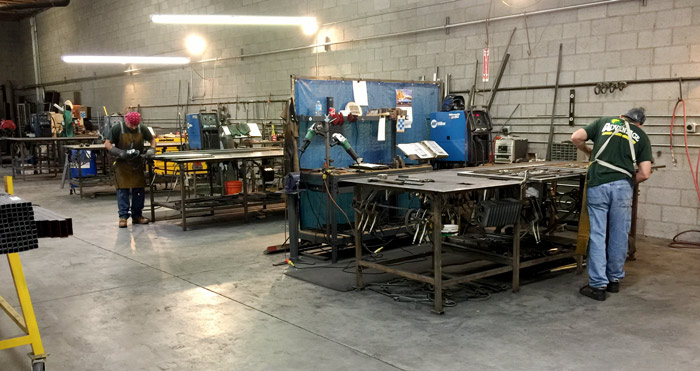 There's really no limit other than your imagination to the types of metal structures we can fabricate for you in our Phoenix, AZ ironworks. Our staff of highly skilled welders, ironworkers, and other craftsmen have experience working on a wide variety of metal projects including:
Fences
Gates
Doors
Enclosures
Railings
Shelves
Benches
Patio Furniture
Fire Pits
Bed Frames
Sculptures
Wall Art
More
Metal Finishing in Phoenix, AZ
At Steel Advantage, every metal fabrication project from the smallest wall art to bulk orders for our commercial clients includes the same customer satisfaction and best price guarantee. Plus we do all our own powder coating and metal finishing in-house at our Phoenix, AZ workshop as well, so you don't have to pay two separate contractors and you can receive your items quickly. In fact, we have a seven-day turnaround on just about everything we create.
We can also provide metal finishing and protection services for metal items you've made yourself or that other metal fabricators have created who don't provide metal finishing or powder coating services at their facilities.
If you're looking for a metal fabricator in the greater Phoenix, AZ area to create a unique, custom, fully finished metal structure, gate, door, enclosure, furniture or art piece, look no further than Steel Advantage. Call us today to find out about our new customer discount and to set up a project consultation today.