O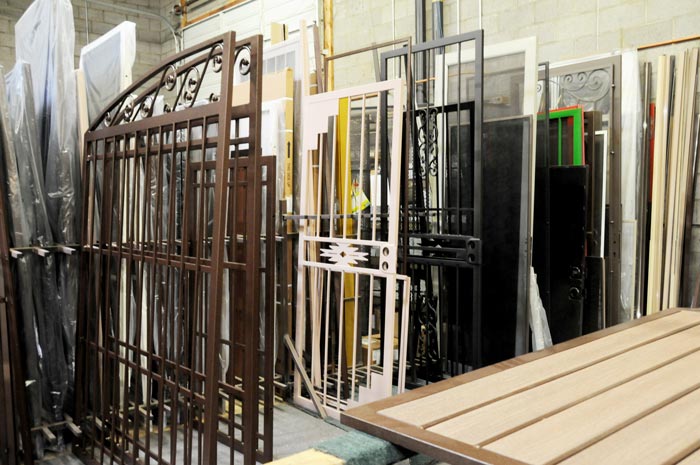 ver time some types of metal security doors and gates can begin to show signs of wear and tear. What was once a beautiful addition to your home or yard has now become a rusty, discolored eyesore that ages your property and causes it to look run down. You might be tempted to junk your door or gate when this happens to you, but as long your doors and gates aren't heavily corroded, you can give them new life and restore them by contacting Steel Advantage here in Phoenix, AZ and using our security door and gate refurbishing service.
Here at Steel Advantage, we've been repairing and refurbishing security doors and gates with slight or moderate rust since 2009. When you contact us you'll immediately notice the difference in our customer care and all-inclusive security door and gate refurbishing and repair services. Plus should your door or gate be too damaged to refurbish you can feel confident purchasing a new one from us because all our doors and gates come already powder coated to protect them from rust and other damage.
Our all-inclusive security door and gate refurbishing services include:
Take down service
We come to you and remove your door or gate then take it back to our Phoenix, AZ facilities.
Installation service
After your refurbished door or gate is complete, we'll bring it back to you and reinstall it at no additional charge.
Sandblast service
We remove all rust, imperfections, and any old paint to ensure the ideal surface for the next step.
Powder coat service
We powder coat or re-powder coat your security door or gate as part of the refurbishment process to protect it from rust, corrosion, scratching and peeling. Plus if you didn't like the old color, you can choose a new one from our huge selection of over 200 colors.
Re-screen service
We'll replace your screens with new ones so your old door or gate will look brand new. You can even purchase an upgraded super screen to add additional security to your doors without sacrificing curb appeal or visibility.
In addition to our gate and security door refurbishing services, Steel Advantage also can provide a wide range of repairs to your security door or gate, such as new handles, new locks, new screens, and more. Contact us today to find out more about our security door and gate refurbishing and repair services and to schedule a consultation to see if your door or gate can be restored.
Check out more of our doors over at our sister company Steel Advantage for more quality products such as our Security Doors by Steel Advantage