You've probably seen the effects of powder coating and not known it. In fact, powder coated metal items are all over your home, office and even in your garage. It's on everything from machinery to car parts to appliances and even your kids' toys. That's because powder coating is a near perfect coating for just about anything and everything metal. The benefits of powder coating over liquid painting methods are many including:
Powder coating is solvent free and therefore environmentally friendly.
Powder coating is quick because it requires no drying time.
Powder coating is extremely durable and provides resistance to wear, tear, rust and corrosion.
Powder coating looks amazing and comes in a huge variety of colors.
Custom Powder Coating and Auto Part Powder Coating in Phoenix, AZ
You might be thinking that a process like powder coating would be expensive. But it's not. It's actually more cost-effective and less labor intensive than a process like spray painting would be. Plus having something like your metal outdoor furniture powder coated will save you more money because powder coating protects your metal items from rust, peeling, and scratches. That means anything you have powder coated will last longer and be less likely to require repairs like rust removal or repainting.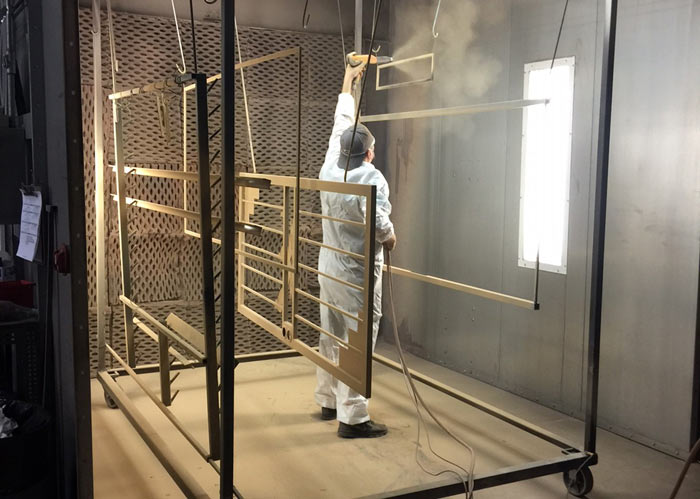 At Steel Advantage Powder Coating & Metal Fabrication, we've been powder coating metal items like gates, security doors, and patio furniture since 2009. Our iron working facilities in Phoenix, AZ can accommodate just about any metal item up to 10 feet by 10 feet by 10 feet. Plus we have over 200 colors of powder coating to choose from allowing you the freedom to completely customize these items and more:
Fencing
Doors
Gates
Patio Furniture
Auto Parts
Motorcycle Frames
Bed Frames
And More
In addition to our powder coating services for residential customers, auto enthusiasts, and motorcycle riders, Steel Advantage also provides powder coating to commercial and industrial clients. Whether you're looking to powder coat a single door or need machinery parts powder coated for a job your company is working on, you can rely on the skilled craftsman at Steel Advantage Powder Coating & Metal Fabrication. Contact us today for to set up a consultation.